Update 24th April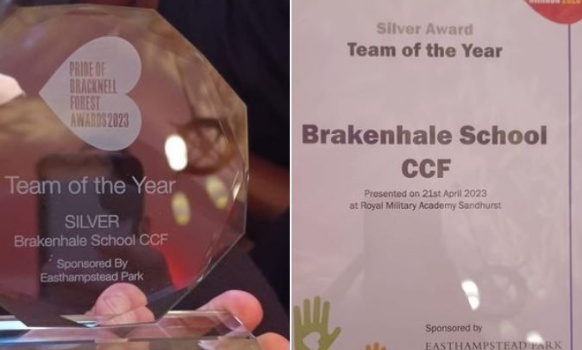 CCF, Strike Days, Website, Gate Closure, Attendance/Punctuality, Communication
Dear Parents/Carers
I hope this finds you well.
Last week just flew by…
We have completed week one of this half term and it has been great seeing our students back, ready for learning. On Thursday, we had Year 7 Progress Evening. I hope you found this useful and can continue to support your child(ren) as they go through the third and final term of Year 7. We have also had Year 11 assessments taking place in some subjects including Geographers out on a fieldtrip, during the lesson time, into Bracknell town centre. Year 11 and 13 final exams are a matter of days away with practical assessments in subjects such as PE, Art and Photography and speaking assessments in French and Spanish taking place imminently. Furthermore, we had news this week that class 9x1 in Maths has topped a leaderboard for their Sparx work, for the 'Top Performing Class'! This is a mammoth achievement as the leaderboard includes all classes not just from Brakenhale but the 13 schools within our Trust - a great feat. We have also seen three students from our school have their work published in a book. The Young Writers' 'Integer' has Daniela Core Santana (Year 9), Chloe Barrett (Year 8) and Summer Griffiths' (Year 8) work showcased; well done to each of them and what a wonderful achievement. For our Muslim students and families, I hope you had a good Eid. For some, this was celebrated on Friday and others on Saturday - Eid Mubarak, slightly belatedly!
CCF Award
On Friday evening, I had the honour to attend the 'Pride of Bracknell Forest Awards'. This is an annual event to recognise the achievements in all many aspects of community life: education, business, volunteering and more. It was held in the grandiose setting of Sandhurst Military Base. Brakenhale's CCF were shortlisted for the 'Team of the Year'. We are told that 100s of nominations are received each year for the range of awards. A panel then shortlists a small number who are invited to the evening. CCF had been nominated and shortlisted this year. To Captain Bury and to our absolute delight, CCF won the silver award. (The winners were Vsi Razom which is a small team that has helped Ukrainian refugees in the last year.) This is a wonderful achievement for the team, and our school. Well done to all of our cadets, and their instructors and leaders, for their dedication and commitment and this award is to recognise this. There are some photographs on our social media for you to see. The 'Pride of Bracknell Forest Awards' facebook page also has some updates. Well done once again - we are proud!
Strike Days
As you may be aware, there is further national industrial action (strike) taking place in schools across the country over two days: Thursday 27th April and Tuesday 2nd May. This is further to a number of disputes and issues faced in the education sector and our government's response to these.
Having looked at how we can manage this, I have made the decision that our school will remain open for Year 11 and 13 only. This is for both of these days. For Years 7, 8, 9, 10 and 12 (all other year groups), work will be uploaded on the Google Classrooms for the two days.
If you are a critical worker and would like your child(ren) to come into school, please inform us by emailing mainreception@brakenhale.co.uk. This provision is also available for students with additional needs. Furthermore, if you will have difficulty with childcare for the days, please let us know.
I fully appreciate that this will be an inconvenience for families. We are not the only school faced by such pressures. I have made the decision based on the most up to date risk assessment and protecting the health and safety of our students.
I want to thank you for your understanding and for making alternative arrangements for your child(ren). This is not an ideal situation but one, I am hoping, that can be resolved soon.
Website
As I relayed in the Parent News just before the Easter break, we've been working hard behind the scenes on our brand-new website. It's ready to launch! We hope that you find the content useful and the website easy to navigate. Please bear with us during the transition period (which may take a couple of days) when you may see either the old or the new website at this time which is normal. The website address remains as www.brakenhale.co.uk.
Gate closure
For the small number of families that drive to drop their child(ren) off to school or pick them up, you will have noticed the new gates at Coningsby. Please note, these gates are closed between 08.35-15.05. Please continue to use the Rectory Lane entrance if you need to drive, to come into school, between these hours. As you exit, drive to the Coningsby gate and they will open automatically as you approach them. The new gates were much needed and I am pleased that these have been activated over the Easter break.
Attendance and Punctuality
We know that children being in school means they are learning, in front of expert teachers. Please continue to have conversations with your child(ren) about the importance of this. We did see a drop in attendance just before the Easter break. We want to see this rising again. Form Tutors and the Heads of Year teams will be drip-feeding this message on a daily and weekly basis.
Communication
As a reminder further to communication sent last week, please use the pastoral@brakenhale.co.uk email address for any questions or queries. Your email will then be directed to the relevant member of staff, or team, who will get back to you. One of the purposes of this refinement is to streamline communication and avoid emails going to the wrong member of staff.
Kind Regards
Mr B Tailor, Headteacher