Fundraising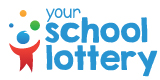 School Lottery
Welcome to the Brakenhale School lottery.
This lottery was set up specifically to raise money for the school and make a difference for our children!
It's a fantastic way to bring Parents, Carers, Teachers and the wider community together, in partnership with our school, and at the same time give something back. We hope to raise funds that can support and enrich the education of our children – we aim to provide extra resources for the children, improve the school environment as well as run extra curricular activities such as music, art and sport.
Your support is greatly appreciated and we wish you good luck!
A ticket costs £1 per week and all funds raised go directly to our school. Each ticket will also enter you in TWO draws:
• A jackpot prize draw for £25,000.00.
• A local draw with a guaranteed prize for one of the supporters of our school. The size of the prize will depend on the number of tickets bought for the school that week.
The lottery is a fun and effective way to raise money to improve our school. But we need your help to make the lottery the best it can be, so please support the lottery today – and who knows maybe you'll be the next £25,000 winner!
Draws take place on Saturdays so please join up and start helping our school.
Support your School Today! PDF
---
Easy Fundraising

With easyfundraising.org.uk you collect free donations to your selected cause every time you shop. You can make a big difference on everything from groceries to getaways and it doesn't cost you a penny!
When you shop the easyfundraising way with one of their 3083 shops and sites they give easyfundraising a commission for your purchase which is turned into a donation for your selected good cause.
When you visit the website easyfundraising.org.uk – simply search for the retailer you want to shop with and click out to them using the green 'Go Shopping' button. You will be taken straight to the retailer's website and your experience will be identical as if you had gone there directly but easyfundraising will be able to track your purchase to ensure a donation for your good cause.
You can also install their Donation Reminder – this means a box will appear if you are shopping with a retailer who participates in the Donation Reminder and you don't even need to visit the easyfundraising site! All you need to do is click Activate Donations and any eligible purchase will be recorded for you. Take a look at the Donation Reminder here. The Donation Reminder is supported by Chrome, Firefox, Internet Explorer and Safari but can't work on mobile phones or tablets.
Shopping on your mobile? No problem, for mobile phones and tablets there is the handy easyfundraising App, perfect if you like to shop on the go and available completely free of charge from your App store. Now you can not only shop using it but you can check out your own donation total and see how your cause is getting on too. For more information please visit the website.