May 2023
29th May: Year 11 Hoodies
Dear Parents/Carers
Year 11 Hoodies
We would like to advise that Leavers Hoodies should be ordered by Tuesday 6th June for students to receive them on leavers day.
Leavers' Hoodies are available for Brakenhale students at a cost of £23.00, please click on the link below to order and pay direct for hoodies.
https://www.dmhoodies.com/product-page/brakenhale-leavers-hoodie-1
If you have any queries, please do not hesitate to contact us pastoral@brakenhale.co.uk
Kind regards
School Office
26th May: Year 10 Pre-Public Examinations
Dear Parent/Carers,
Our Year 10 students are over half way through their GCSE courses. To put this info further context, the present Year 11 started their formal GCSE exams two weeks ago. In a year's time, Year 10 students will be in the middle of their final exams!
In preparation for this, students will be sitting a suite of Pre-Public Examinations (PPEs) next half term. These are also known as 'mocks'. These will start from Monday 10th June. This first set of PPE exams are one of three that will take place between now and the start of formal exams in May 2024. Subsequent PPE exams will take place in November 2023 and then in February/March 2024. The timetable for this round of PPE exams can be found on our website here.
The PPEs are based on real GCSE and Vocational assessments. The assessments are an indication of how students are currently progressing in each subject. They are also an essential part of the educational experience to ensure our students are suitably prepared with the skills required to complete formal exams.
Each PPE exam will be sat in formal examination conditions, typically in the Sports Hall. They will be supervised by our invigilator team. All of the formal rules and regulations will be in place, such as no wrist watches, mobile phones stored in bags (outside of venue), and appropriate tools for learning in a clear pencil case (more details have been attached). Students that are unable to follow the rules will not be awarded a grade in that particular PPE exam (in line with the actual exams).
The timings of the school day will remain the same. The examination timetable is designed to allow for the normal break and lunch times. Where possible we will support revision sessions during Tutor Time for relevant 'whole year' exams.
To ensure the best possible experience and results we advise the following:
Students should be revising a minimum of one hour per day.

Students should use 'active' revision strategies such as flashcards, 'Mind Maps', regular questioning and a range of information sources.

Students should structure their time after school to ensure they are able to engage in a wide range of activities (sports, social media, watching TV, socialising et) whilst ensuring they have enough sleep and eat well to give them the required energy and resilience.
We know our students will do extremely well! We are here to support them through this process, which is what will be required this time next year.
Kind regards
Mr A George, Assistant Headteacher
25th May: Changes in Communication Systems
Dear Parents/Carers
Changes in communication systems
We would like to notify you that we are changing our IT systems. During half-term we will be moving our MIS (Management Information System) to a new provider, Bromcom. This is a Trust-wide change and all of the Greenshaw Learning Trust schools are transitioning.
Over the next few months, some of our communication processes will be changing. In particular, we will not be using School Gateway from Monday 5th June. Please note that on Monday 5th June you will only be able to report your child's absence by either emailing attendance@brakenhale.co.uk or by calling the main school number and selecting student absence from the main menu. Moving forward to replace this, we will be using the My Child at School (MCAS) app. MCAS allows you to report absences and view key information like your child's timetable and attendance. We will use the app for most communications and alerts. To get set-up on the MCAS app, we will be sharing more information and login details after half term. The MCAS app will grow in functionality and capability over time as we fully integrate it with all of our processes within school.
We can confirm that we will be continuing to use the ClassCharts and ParentPay applications.
In time, we will look to move more systems onto Bromcom, meaning you will have access to more information in one place, we will keep you updated on this.
We hope that the transition to the new system will run smoothly and you will enjoy the benefits.
Kind regards
Mr B Tailor, Headteacher
24th May: Year 9 Team Update
Dear Parents/Carers
Year 9 Team Change
There are some changes to roles which impact our year group. At the end of last term, I was appointed Assistant Headteacher within our school. This has been communicated to Year 9 students in assembly. I have thoroughly enjoyed my time as Head of Year for this wonderful year group.
I am delighted to confirm that Mr Collins has been successfully appointed as the new Head of Year for this year group. Mr Collins has already been Assistant Head of Year for two years now and has built excellent relationships with the students. Many of you will have worked with Mr Collins already and I am sure you will agree that this is an excellent appointment.
Mr Collins will begin his role as the new Head of Year at the beginning of the next half term, week beginning Monday 5th June. I will continue to support Mr Collins to enable a smooth transition. A new Assistant Head of Year will be appointed in due course and the new year team will be in place for September.
I look forward to continuing to work with you and Year 9 (soon to be 10), albeit in a different capacity.
Please continue to use Pastoral@brakenhale.co.uk to get in touch with any pastoral issues or concerns you may have.
Kind regards
Mr P McKane, Assistant Headteacher
24th May: Reflection Room Refinements
Dear Parents/Carers
Reflection Room refinements
Since our Reflection Room came into effect last year we have refined the processes and come to these conclusions about how this intervention and sanction can be even more effective.
The Reflection Room is an intervention and sanction which is run by a dedicated team of staff trained in both behaviour and pastoral care. It is used to support students who have been removed from a lesson or are in need of a higher-level sanction than a detention. Whilst the vast majority of our students will not experience being in the Reflection Room, the main aim of this intervention is to allow all students across the school to experience disruption free learning in their lessons, as they rightfully deserve.
Therefore, these updated refinements will come into effect on the week beginning Monday 5th June. They are being communicated to all relevant year groups across this week in assemblies.
The work completed in the Reflection Room will be centrally coordinated and organised by Heads of Department. This means that, where possible, the work being completed in the reflection room can closely mirror what is being taught in lessons. The Key Stage three and four timetables will look as follows:
| | | |
| --- | --- | --- |
| Lesson | Key Stage 3 (Year 7-9) | Key Stage 4 (Year 10-11) |
| Period 1 | Maths | Maths |
| Period 2 | English | English Language |
| Period 3 | Science | English Literature |
| Period 4 | Geography | Science |
| Period 5 | History | Geography or History |
For example, if a key stage three student enters the Reflection Room at the beginning of period four, they will complete a Geography lesson online.
All work will be handwritten in new Reflection Room booklets and will be used, along with the student's behaviour to determine what points are awarded for the lesson. A model example of "6 point standard" work has been included in each booklet to ensure that expectations are clear.
How long a student remains in the reflection room is determined by them. The blanket procedure of five lessons plus one hour will be removed. A bespoke points based system will be introduced.
Students will need to gain 12 points in order to leave the reflection room and return to lessons. A breakdown of how points will be allocated per lesson has been provided below. The messaging to the students will be; "how hard you work determines when you can return to lessons." This provides a greater level of fairness as a student that chooses to accept responsibility and work very hard to redeem themselves will return to lessons sooner than a student that chooses not to do this. This also provides agency to the students and allows them to determine their own outcome through making good choices.
All students who are sent to the reflection room will complete a thirty-minute detention after school regardless of length of time spent in RR during the day. This is to ensure that a reset conversation between the student and the teacher can always happen. This also acts as a further deterrent to being sent to the reflection room. Please communicate any unavailability in advance to Pastoral@brakenhale.co.uk and we will work to reschedule this with you.
Reflection Room Points System
Aim High | Be Kind | Take Responsibility = Leave RR sooner and return to lessons.
In order to leave RR and return to lessons, I need to collect a minimum of

12 RR Conduct points.

0

No work completed. This will lead to a failed session.

1

Work is of poor quality with minimal effort being made.
Incomplete sentences used and presentation was poor.

2

Work is of satisfactory quality. An attempt of full sentences and/or satisfactory presentation has been made
Student may have received a warning, but changed behaviour after this.

4

Work completed is to a good standard. Full sentences used.
Work was completed in silence at all times. No warnings received.
Student was well focussed throughout.
Presentation of work was good with care being taken.

6

Work is of exceptionally high standard.
Work was completed in silence at all times.
Exceptional focus shown throughout. No warnings received.
Full sentences completed with neat handwriting.
Extra paper was required due to detail of work.
We hope that the refinements, based on our own data, research and feedback, is of benefit to all. Please contact Pastoral@brakenhale.co.uk, should you have any queries regarding these refinements.
Kind regards
Mr P McKane , Assistant Headteacher
Mrs H Whitaker Flower, Deputy Headteacher
Mrs P Palmer, Behaviour Support Manager
23rd May: Uniform Reminders
Dear Parents/Carers
REMINDER: Uniform
The summer is approaching fast, and thankfully bringing us warmer weather. We have seven and a half weeks of school left before the summer holidays. Uniform will continue to be at a high standard right until we break up.
High standards of uniform are a key part of school culture and we expect our students to wear their uniforms with pride. They are a part of our community and uniform is one symbol of our community that we all share.
Please can we ask for your support in ensuring that any missing or damaged uniform items are replaced. If you require assistance in doing so, please email pastoral@brakenhale.co.uk. Mrs Theal will be able to support you with any second hand or spare uniform we have available. We always have a store of clean uniform for students to borrow. This ensures that uniform standards never drop.
Some reminders on our uniform policy:
Blazers are compulsory. Blazers must be worn in line-up and inside the main building. You will be notified if we choose to remove blazers if the weather becomes too warm.
Ties must be to the waistband. If they are broken and are too short, please replace them. A clip-on tie is preferable.
Skirts should be a professional length. The logo must be visible at the top.
Jumpers are optional. If a student wears both a jumper and blazer and they are warm, the jumper must be taken off, not the blazer.
Jumpers should not be tied at the back.
The Brakenhale School bag must be brought to school every day.
Nails, hair and make-up should be natural in appearance.
No piercings are permitted with the exception of one stud in each ear lobe. Any additional facial piercings should be removed before school and should not be worn at any point on the school site.
Jewellery should be limited to one watch, one plain ring and with no other rings, bracelets or accessories worn.
No additional items (other than underwear) should be worn under school trousers. If your child has a sensory need, please let us know by emailing pastoral@brakenhale.co.uk.
We know that the vast majority of our students adhere to the above and do so without needing to be reminded. If a student does not adhere to any of the above, they should expect to receive a same-day sanction (a 30-minute detention).
A copy of the school uniform standards has been attached for your convenience.
Should you have any questions or concerns, please do not hesitate to contact us at pastoral@brakenhale.co.uk.
Kind regards
Mrs H Whitaker Flower, Deputy Headteacher
18th May: British Rowing Opportunity
Dear Parents/Carers
British Rowing
I have been contacted by BRITISH ROWING about a great opportunity for Brakenhale students to get involved in this May half term!
Ben Reed is Performance Satellite Coach for British Rowing for the Thames Valley area and is based at the rowing club in Reading. He has contacted me to try and get students at Brakenhale involved in taking up and trying out some rowing. With the annual boat race between Oxford and Cambridge having just happened at Easter, this could be an opportunity for one of our students at Brakenhale to step into a boat and try it out for the first time!
It is a fantastic sport that you can do individually or as part of a team, but being out on the water with the wind in your face and your heart pumping is a brilliant feeling!
Ben is running 'on the water' taster sessions on the Tuesday and Wednesday over May half term. It would just be a taster to see how you go and if you like it. Sessions will run at Reading Rowing Club boathouse off Richfield Avenue. The sessions would be free of charge.
The only stipulation that Ben asks is for performer heights to be met - the height criteria of 178cm/5'10 for girls and 188cm/6'2 for boys. Please see the poster attached.
For more information and to book on, please complete the google form link sent home.
To speak to Ben directly please email him on ben.reed@britishrowing.org
There is no experience needed whatsoever for rowing, anyone can get involved, so please give it a try if you fancy it.
Thank you
Mr M Potter, Head of PE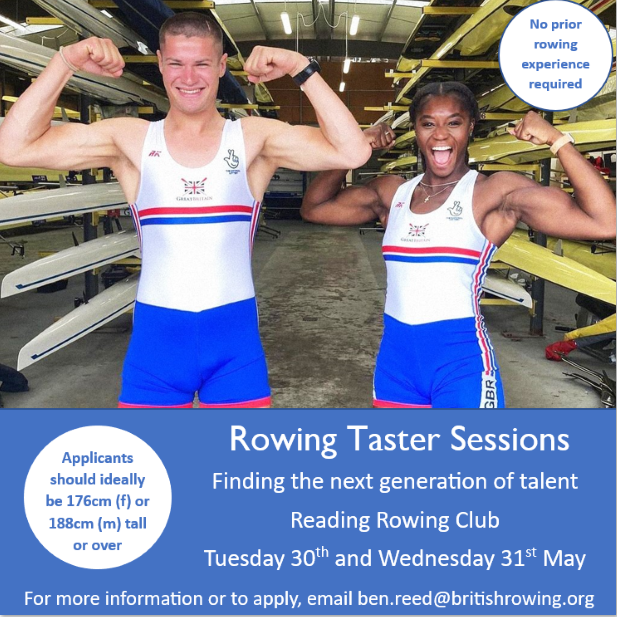 17th May: Year 7 Get Active
Dear Parents/Carers
Year 7 - Get Active!
As part of our commitment to getting our students active, I have a fantastic opportunity to offer students in Year 7.
On Thursday 22nd June 2023, the Brownlee Foundation is coming to Bracknell. They are running a junior triathlon at the leisure centre.
The Brownlee brothers (Alistair and Jonny) set up the Brownlee Foundation to inspire children from all backgrounds to enjoy sport, encourage them to lead active lifestyles and benefit from the opportunities sport provides.
This opportunity is open to all students in Year 7 but we are capped at 20 places for the day so this is strictly on a first come first served basis.
Students need to be able to swim, cycle and run, unaided, for the event.
The event takes place in the afternoon and students will be out of school from 12.15pm. They will be walked over with a member of PE staff who will be there with them for the afternoon. They will then walk back to school when the event has finished. The event is due to finish around 14:00. We aim to be back to school for 14:20 where students will remain with PE staff until PM line up.
Students will need their full PE kit, swim wear and a towel for the day, plus food and drinks and a warm jacket for after the event. Bikes and helmets will be provided by the organisation so there is no need to bring these. Helmets must be worn when cycling, this is non-negotiable.
All children will swim 50m, cycle 800m and run 300m (all distances are approximate).
If your child wishes to take part in this, please click here to complete a google form to sign up. We will let you know shortly after if your application has been successful.
Many thanks
Mr Potter, Head of PE
17th May: KS3 Rank Order Assessments
Dear Parents/Carers
Rank Order Assessment
As you are aware, we had the first round of Rank Order Assessment in January 2023. Information to students and families was sent in the Autumn Term.
The Second Rank Order Assessment cycle of the year has now been launched. A hard copy of the Assessment Manifests has been handed to each student. This is an exciting opportunity for students to showcase their progress from January.
The assessments have been planned to take place in lessons over two weeks. They begin from 5th June for two weeks. A personalised timetable will be shared with the students by the end of this week. Best efforts have been made to spread these assessments out following feedback from the last cycle. The timetable is somewhat restrictive, however the occasions where four assessments occur in one day are now extremely rare.
Departments will share further resources with which to revise, and all students will receive two revision lessons prior to their assessment lesson in each subject. It is very important that students are in attendance for every assessment, as class teachers may need to set catch up assessments out of lesson time for any that are missed. A reminder that the students receive their own physical progress report and an electronic copy will be sent to you; results are not shared publicly in school.
The January cycle was approached so positively by the students and we are looking forward to being able to share the valuable information gained next half term.
Kind regards
Mrs G Powell, Assistant Headteacher
16th May: Year 8/9 HPV Information
Dear Parents/Carers
HPV Information
Please find HPV information sent home from the School-aged Immunisation Team.
Kind regards
School Office
---
Please see below useful HPV information from The School-Aged Immunisation Team.
What is HPV?
HPV is the name given to a very common group of viruses.
There are many types of HPV, some of which are called "high risk" because they're linked to the development of cancers, such as cervical cancer, anal cancer, genital cancers, and cancers of the head and neck.
What are the symptoms of HPV?
HPV does not usually cause any symptoms.
Most people who have it do not realise and do not have any problems.
But sometimes the virus can cause painless growths or lumps around your vagina, penis, or anus (genital warts).
How is HPV spread?
Many types of HPV affect the mouth, throat, or genital area. They're easy to catch.
You do not need to have penetrative sex.
You can get HPV from:
 any skin-to-skin contact of the genital area.
 vaginal, anal, or oral sex
 sharing sex toys
What does the HPV vaccine protect against?
The HPV vaccine helps protect against cancers caused by HPV, including:
 cervical cancer
 some mouth and throat (head and neck) cancers
 some cancers of the anal and genital areas
 It also helps protect against genital warts.
Who can have the HPV vaccine?
The 1st dose of the HPV vaccine is routinely offered to girls and boys aged 12 and 13 in school Year 8. The 2nd dose is offered 6 to 24 months after the 1st dose.
How do I contact you?
Telephone the team on 0300 365 0077
Email: Westschoolsimms@berkshire.nhs.uk
Eastschoolimms@berkshire.nhs.uk
Centralschoolimms@berkshire.nhs.uk
How do I know if am up to date with my vaccinations?
You can contact Child Health Information Service on: 0300 561 1851
Or alternatively contact your GP surgery
What should I do on the day of the vaccination?
Eat Breakfast. Drink well. If school allows wear a short-sleeved top. Don't worry!
How do I stay well after I have had my vaccination?
Drink lots of water.
Move your arm.
Eat well.
If you're worried then talk to school or your parent/carer at home.
HPV vaccine side effects - NHS (www.nhs.uk)
My parents do not want me to receive the vaccination, but I do. Who can I talk to for support?
Call us on: 0300 365 0077
Email: Westschoolsimms@berkshire.nhs.uk
Eastschoolimms@berkshire.nhs.uk
Centralschoolimms@berkshire.nhs.uk
Or use this link for further info: Consent to treatment - Children and young people - NHS (www.nhs.uk)
I have come from another country and do not know my vaccination history.
If unsure you are better to have the vaccination.
Receiving the vaccination more than once cannot cause you any harm.
What do I do if I am unsure if I need this vaccine?
Receiving the vaccination more than once cannot cause you any harm.
What should I do if I am worried about having the vaccination?
Come and talk to us on the day. All the nurses are here to support you.
Useful links:
HPV vaccine overview - NHS (www.nhs.uk)
Human papillomavirus (HPV) - NHS (www.nhs.uk)
Join the fight against certain HPV cancers - MSD (hpvwise.co.uk)
15th May: Year 6 Transition
Good afternoon
Year 6 Transition
Please see attached our Transition Booklet for Year 6 students joining us in September as a reminder for Uniform and Tools for learning should you wish to start buying items.
If your child has a sibling in the school they will be in the same house if you wish to purchase the school tie. For students who do not have a sibling with us houses will be allocated later in the summer term. Delivery of uniform to the school is free should you wish to spread the cost of buying uniform.
If you have any queries, please do not hesitate to contact us.
Kind regards
School Office
15th May: Canteen Menu Change 18.5.23
Dear Parents/Carers
Canteen Menu Change
We would like to advise you of the menu change below for Thursday 18th May: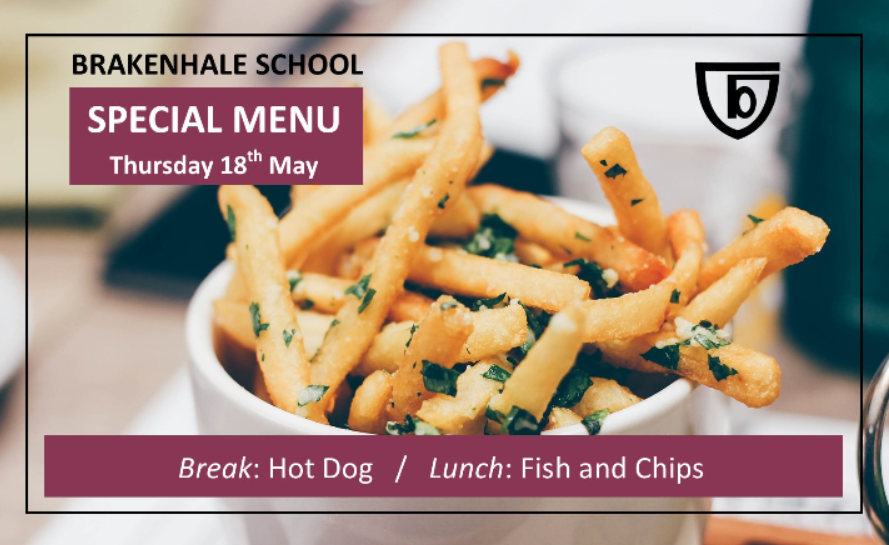 Kind regards
School Office
14th May: Year 13 Information from Mr Tailor
Dear Year 13
I hope this finds you well.
We now embark on the final stretch of our Sixth Form journey. For many of you, this is the final stretch of your education at Brakenhale since Year 7! I know your schooling was interrupted by the pandemic and you did not sit formal GCSE exams. However, you have sat PPEs in Year 12 and Year 13 so you are well equipped with what is expected. The next five weeks are an important milestone. The outcomes of these exams will enable your next step. For many of you, this will be going to university. If it's not, it will be an apprenticeship or work based training. I look forward to result days when this will all be confirmed!
I know Mrs Manlay, Ms Loj and all your teachers have been communicating key reminders of what is expected during this period. You will continue to have lessons and Warm-Ups before an exam. Please ensure you attend every single one of these and you are not late. Every lesson and Warm-Up matters.
In a Sixth Form assembly that I attended only a few weeks ago I reiterated our belief in each and every one of you. We believe in every single one of you. You can do this! Yes, this period is stressful. However, it's something you will only do once in your lifetime. You should look back on the time at Brakenhale and thank yourself. I am proud of you, and you have my ultimate backing for every exam.
Finally, I wish you all the very best. I look forward to seeing you each day - well rested, calm, focussed and prepared for each exam. I will not wish you 'good luck'. This is because 'luck' relies on something beyond your control when, in fact, your hard work and dedication will mean these exams are in your control. You will attempt each one with confidence!
Kind regards
Mr B Tailor, Headteacher
14th May: Year 11 Information from Mr Tailor
Dear Year 11
I hope this finds you well.
We now embark on the final stretch of our Year 11 journey. In fact, it's the final stretch of your education at secondary school! For most of you that is 20 days of exams; for others this is a few more days as you have exams in the week beginning the 19th June 2023. Some of you will stay on in the Sixth Form which is great but for all of you, the next 20-23 days is a pivotal one for your next steps regardless if you stay with us in September.
I know Mrs Lister has communicated some key reminders on Friday, to all of you. This included a short video. Please ensure you have watched it. We have been giving you key information about the exams for many weeks now. On Friday, in the assembly in the Sports Hall, our Exams Officer, Mrs Seymour, reminded you of important information. You have heard this many times before so nothing relayed here was new. I then shared some key messages. To reiterate, we believe in every single one of you. You can do this! Yes, this period is stressful and tasking. However, it's something you will only do once in your lifetime. This set of GCSE exams only happens once and you need to give everything to them. You will look back on the time and thank yourself. You will make yourself proud! I am proud of you, and you have my ultimate backing for every exam.
As we embark on the first week, I will remind you of some of the daily routines:
For a morning exam, your Warm-Up starts at 08.10. Please do not be late. The gates will be open from 07.45. Ensure you have all the equipment you need, every day.
For an afternoon exam, Warm-Up starts at 12.15. This is during period 4. You will go for an early lunch to then start your exam at 13.30.
Study Prep continues. However, in many cases it's replaced by a Booster for the exam to come in the following morning. For example, tomorrow (Monday), this will be a Science Booster as you have a Science (Biology) exam on Tuesday morning.
Each evening, your parents/carers will receive a text message to remind them of the exams the next day. You will also receive a daily email from Mr Hilton, as another reminder. We will be reminding you all too, each day.
Finally, I wish you all the very best! I look forward to seeing you each day - well rested, calm, focussed and prepared to give your very best in the exam you are about to sit. I will not wish you 'good luck'. This is because 'luck' relies on something beyond your control when, in fact, your hard work and dedication will mean these exams are in your control. You will attempt each one with confidence!
Kind regards
Mr B Tailor, Headteacher
12th May: Year 11 Exam Information
Dear Parents/Carers
Your child will have been issued next week's exit timetable this morning before assembly, and you and your child will both have received a pdf copy today via email.
Students will be in school all day every day as normal, but on days when they have morning exams students will have an early start at 8:10. Below is an overview which will help students to pack their bags with revision materials and books for subjects they will attend lessons for.
Please take the time to watch this video tutorial with students to help them understand the format. The most salient points to remember are:
Bring a filled clear water bottle every day
Bring your full set of TfL in a clear pencil case every day, including your calculator
Phones must be switched off and in bags, locked in the cages
All watched must in bags, locked in the cages
Pockets must be empty
Full uniform must be worn, no trainers, and no hoodies or other visible layers are permitted
If you have a morning exam:

Breakfast served 7:45-8:10
Warm-up starts at 8:10; late arrival after 8:15 go to G06
Exam line-up at 8:50
If you don't have an exam, Turbo Tutor starts at 8:30 as usual

If you have a morning exam:

Warm-up starts at 12:15
Early lunch at 12:50
Exam line-up at 1:20

Study Prep:

Continues according to your usual timetable 2:55-3:40
If you have an exam the following day you will have a Booster instead
Take care and have a restful weekend before the big week ahead.
Best wishes
Mrs Lister, Assistant Headteacher
6th May: Year 6 Golden Tickets
Hard copies have been sent out by Royal Mail
Dear Parents/Carers
I would like to take this opportunity to welcome you to Brakenhale School and express my enthusiasm for you to join our wonderful community. At Brakenhale, we share the values of Aim High, Be Kind and Take Responsibility. These values permeate everything that we do and ensures commonality with all stakeholders in our purpose across the school. I, along with our team of school staff look forward to working with you over the coming years in ensuring that your child achieves their own individual successes, gaining access to the very best colleges, universities and future careers once they leave us after sixth form in years to come.
Over the coming months, you will receive more information regarding the transition process including on-site transition days for your child in the summer term as well as information evenings for parents and carers. As the Assistant Headteacher overseeing transition, I will be working closely with our feeder primary schools to ensure that all students transition to Brakenhale is as smooth as possible and that all students are cared for appropriately. Should you have any questions, queries or concerns, you should email Transition@brakenhale.co.uk. The relevant member of staff will be in touch with a response as soon as possible.
Finally, inside this letter I have included a 'Golden Ticket to Brakenhale' for your child. Please could they click on the QR code on the ticket to share some thoughts about joining Brakenhale, alternatively click here to complete. Your child has received this Golden Ticket because as a new member of the Brakenhale community, they will have access to the very best teaching and learning in disruption free lessons throughout their time with us. They will be cared for by a robust pastoral and safeguarding team that work tirelessly to ensure all students are kept safe and happy. They will have the opportunity to form lifelong friendships with peers and take part in a range of extra-curricular activities and experiences that will provide them with fond memories that will last a lifetime. It truly is a Golden Ticket to a fantastic secondary school experience.
Welcome to Brakenhale School, a school at the heart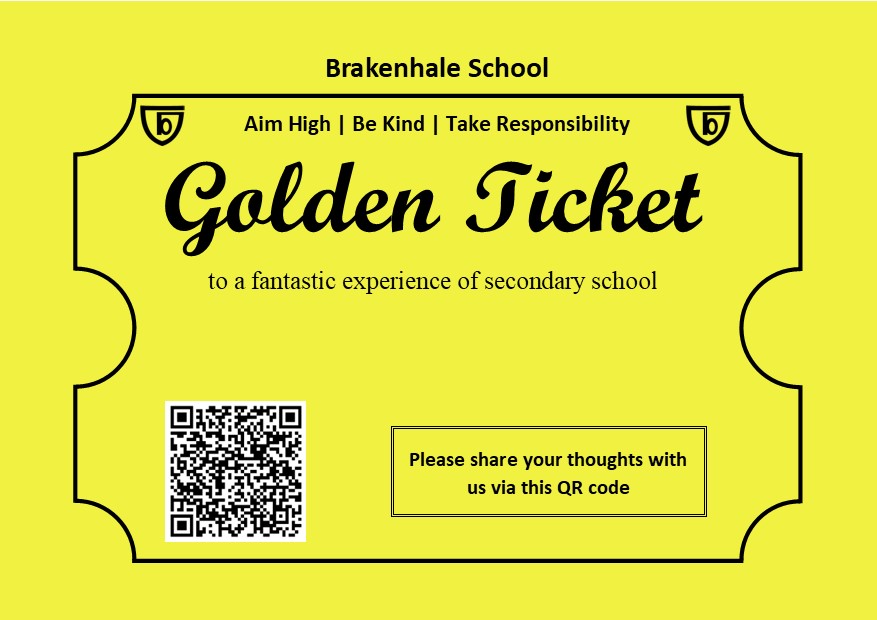 of the community where we instil the values of aspiration, kindness and responsibility to prepare our students for their individual successes and future careers.
Kind regards
Mr P McKane, Assistant Headteacher
5th May: Year 11 End of Year Events
Dear Parents/Carers
Year 11 School Prom - Friday 30th June 2023
The finale of the school year for Year 11 will be the school leavers Prom, which is taking place at: Easthampstead Park Hotel off Peacock Lane Wokingham RG40 3DF
Arrival will be from 7pm and the disco will finish at 11.30pm. Pick up will be for 11.45pm at the latest. The total cost of the event will be £48.00; which includes the venue, a welcome drink, a hot and cold finger food buffet, and on-site security.
Students have been earning Prom Points as rewards for going above and beyond in their studies over the course of the academic year. Those who have already earned 20 points will receive a 'Save the Date' invite, and many more students are very close to receiving their invite, as soon as they accumulate 20 points. All students will need to have earned 20 Prom Points, which they can continue to earn until May half term.
If your child wishes to attend the Prom, full payment should be made via ParentPay by Tuesday 6th June, 2023 once they have received their 'Save the Date' invite.
If you have paid for a Prom ticket and your child is not permitted to attend you will receive a full refund.
Year 11 – Yearbook
Each year we produce a Yearbook for our Year 11 students as a memento of their time at Brakenhale. The creative process is currently underway and we are collating your child's comments for their yearbook page. The Yearbook cost will be £18.50; more details will follow, payment is on ParentPay and final payment should be made by Monday 3rd July. Yearbooks will be available to be collected on Thursday 24th August (GCSE Results Day).
Year 11 Hoodies
We are currently working with an external company to produce our Leavers' Hoodies which will be available for Brakenhale students at a cost of £23.00. Payment will be direct to the external company through their website and should be ordered by Friday 23rd June. Hoodies will be distributed at the Year 11 Leavers Assembly.
https://www.dmhoodies.com/product-page/brakenhale-leavers-hoodie-1
If you have any queries, please do not hesitate to contact us by email pastoral@brakenhale.co.uk
Kind regards
Mr L Hilton, Head of Year 11
5th May: SATs Good Luck Year 6
Dear Parents/Carers
We would like to take this opportunity to wish all students the very best of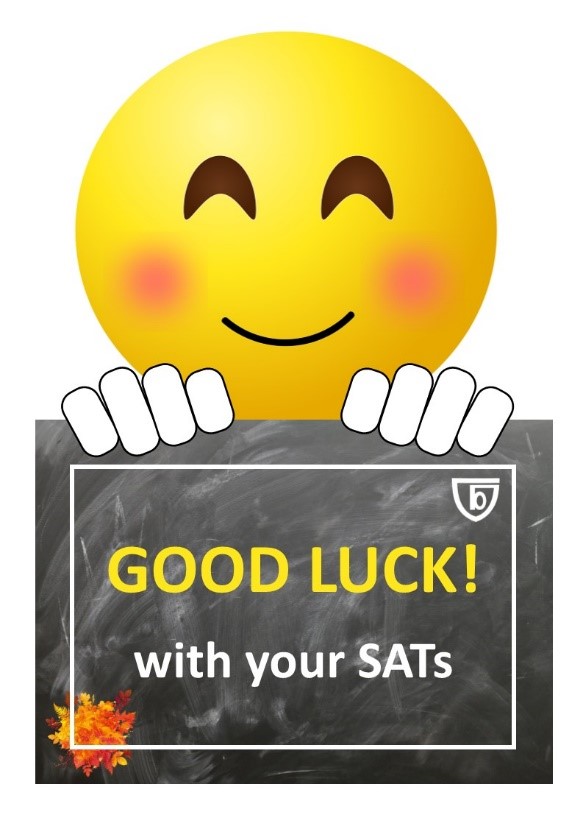 luck in their SATs next week; I am sure that everyone has worked as hard as possible and you will enjoy celebrating the many successes.
We will all be thinking of you here at Brakenhale.
With best wishes
Mr P McKane, Assistant Headteacher
3rd May: English Homework Platform - Sparx Reader for KS3
Dear Parents/Carers
English homework platform – Sparx Reader
I am writing to let you know that we are about to begin using our new English homework platform 'Sparx Reader.' This is the same platform that students are used to in Maths, and the homework booklet will now state 'Sparx Reader' on the designated English homework day (Wednesday).
The first set of homework will be issued today, Wednesday 3rd May, and will be checked each Wednesday going forward. Students will be expected to complete 30 minutes of careful reading which should equate to 300SRP (Sparx Reader Points). In line with our homework policy, if the homework is not completed then a detention will be issued.
Students will use their existing maths Sparx login to access the English platform and all students have completed their initial reader test in class. If there are any issues please direct the student to their English teacher.
Kind regards
Mrs D Lewis, English Teacher in charge of KS3 English
3rd May: The Lily-Jo Project
Dear Parents/Carers
The Lily-Jo Project
Following their previous 2 live workshops, mental health platform The Lily-Jo Project will be hosting another free workshop for parents and teachers.
· When? Friday 19th May 2023
· Time? Lunchtime: 12:00 to 13:00 (BST)
· Where? Online
The workshop is designed to help you understand some of the unique mental health challenges facing children, teenagers, and students today. The particular focus of this workshop will be on the topics of self-harm and improving self-esteem in children.
This workshop series follows the release of Lily-Jo's debut book Talking To Children About Mental Health, which was written for parents, grandparents, teachers, youth workers, and anyone in a position of care or interested in the future of mental health.
To sign up, simply fill out this form to receive your link to join!
Kind regards
School Office
On behalf of The Lily-Jo Project
3rd May: Year 8 Virtual Parents' Evening - 18.5.23
Dear Parents/Carers
Year 8 Virtual Parents' Evening - Thursday 18th May 2023
We would like to invite you to the Year 8 Parents' Evening on Thursday 18th May 2023 from 4pm to 7pm. Appointments will be held by video call.
Families are requested to use our automated online booking system to make appointments. This allows you the flexibility to book times directly with your child's teachers.
Please click on the link below to book your appointments:
Appointments will be allocated on a first come, first served basis, therefore it is in the interests of both yourself and your child to ensure your appointment is booked as soon as possible. Appointments will be available to book until the end of the day on Tuesday 16th May 2023.
We would request that only one set of appointments are booked per student. In order to ensure the smooth running of this event, we would strongly advise that when you receive confirmation of your appointment, you click on the 'click here' link to check that the browser you are using is compatible. If your browser is not compatible, please cancel your appointments and let us know so we can contact you by alternative means.
You can give one other Parent/Carer access to join your video appointments in respect of each student linked to you that is involved in the conference. You can grant this access at the time of booking, or later if required.
Please note, appointment times are strictly adhered to by the booking system and will cut off when the appointment time is over. A clock will display on screen showing how long is left until the end of the appointment.
If you do not have access to the internet, have problems using this booking system or require any further assistance, please contact the school office as soon as possible on 01344 423041.
Kind regards
Miss Douse, Head of Year 8
2nd May: PE Notifications
Dear Parents/Carers
PE Notifications
Just as a reminder for PE notes: please email pastoral@brakenhale.co.uk if your child cannot do PE, has a medical injury or has not got PE kit or the correct PE kit.
The email must arrive before the lesson so that staff can be aware and organise as necessary.
Many thanks
Mr M Potter, Head of PE